Our Youth/Teens Programs
At Young Israel of Orange County, our Youth Program personally is overseen and led by our Rav and Rebbetzin, both of whom grew up in NCSY.  Rav Fischer has been rabbinic advisor to NCSY branches through a career going back to his years on the East Coast — and each of his children have been active leaders in NCSY.  Rebbetzin Ellen grew up in NCSY in upstate New York. Together, they inspire young people with their personal qualities of character, their devotion to Torah observance, and their inherent enjoyment of life and fun.  Their home is often a center for teens.
At the core of YIOC's Youth Program is Rav Fischer's "Free Open Yeshiva" for Orange County Teens, and our weekly afternoon classes in Jewish holidays, customs, and text studies, as well as films on Jewish themes that are followed by discussion.
And, for pre-teens, YIOC offers our progressive, unique, and Jewishly enriched Bar Mitzvah and Bat Mitzvah program.  Families enrolling their pre-teens in this unique Program are eligible for YIOC"s advantaged membership discount program for Bar and Bat Mitzvah Households.
Our progressive Bar Mitzvah/ Bat Mitzvah training program aims at teaching Jewish values, Jewish ethics, Jewish pride, and Jewish knowledge to pre-teen boys and girls studying for their big day. Boys learn to lead a service, so that they can have meaningful and real knowledge that they will use any Shabbat they like for the rest of their lives.  They learn to read Hebrew, to read from the Torah in the traditional melody, to prepare a meaningful Bar Mitzvah speech.
Girls, too, learn to navigate the Siddur and its prayers, read Hebrew, to prepare a meaningful Bat Mitzvah speech, and they learn more substantive Judaism — Bible, Jewish history, the Siddur, Jewish traditions — than they imagined was "out there."  As with the boys, the girls studying for Bat Mitzvah learn real, substantive, tangible Jewishness and Judaism — love of Israel, pride in their heritage, and real knowledge — that will last them a lifetime and even enrich them as future Jewish parents! In addition, uniquely among Bar Mitzvah/ Bat Mitzvah programs, the B'nai Mitzvah evolve personal relationships both with Rav Fischer and with Rebbetzin Ellen — these, too, are relationships that will last for years to come.
---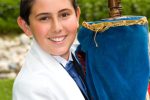 Individual Classes by Appointment
Taught by Rav Fischer