Join us for Passover and the Pesach Seder!
DEADLINE FOR OUR YEAR 2019 (5779) SEDER RESERVATIONS:

THURS.

 

APR. 11

 

at 9:00

 

pm.
(

We regret that Reservations after that time cannot be accepted

.)
To reserve your fabulous Seder places with Young Israel and Rabbi Dov Fischer for (i) Fri. Night April 19, 2019, or 
(ii) 
Sat. Night, April 20, 2019

 — or both nights — you can make your reservations right here online by clicking this friendly link:
Just choose whether you want to reserve for (a) the First Night (Friday the 19th)
,

 (b) 

the Second Night (Saturday the 20th)

,

 or (c) Both Nights.  You can make your payment right there on our website.
It is Pesach Season —
time for our Community Passover Sedarim!
 
We conduct a fabulous Seder each night — both on Friday night, April 19, and on Saturday night, April 20.  (Each Seder begins at 8:00 p.m.) This will be our Eleventh Year of conducting Community Seder experiences.  Each night's Seder includes a
wonderful professionally catered 4-course dinner, served by professional waiters

. Each of your four cups of wine (or grape juice) is poured for you by a wine steward.  We offer you a

selection of wines, and we offer Shmurah Matzoh in two choices:

hand-made from Israel, and machine matzos. 

All your choice.
The Seder service itself is conducted in a marvelously fascinating and contemporary style, blending both Hebrew and English.  We use Hebrew when we recite the "Four Questions" (Mah Nishtanah), when we sing "Dayeinu" and the songs at the end, and when we recite the brachot (blessings) before eating the karpas (parsley), the matzoh, the maror (bitter herbs) and charoset.  In the same way, while we use the traditional Hebrew Haggadah with English translation that you know from your own childhood, our Seder also is special in that most of the discussion, readings, and explanations are presented in contemporary English,

with lots of learning, lots of Jewish history, and lots of family-friendly humor and fun.

  And of course Afikoman to hide, eggs, salt water, a cup for Eliyahu (Elijah), all the way to "Who Knows One?" (Echad Mi Yode'a) and "Chad Gadya."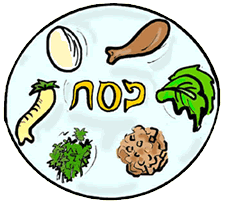 Each individual and family is treated with

personalized attention
, because we limit each Seder to no more than 30 or so people. 

Our goal is to assure that the Seder is not so overwhelmingly large that anyone would "get lost in the crowd."  In that way, you are part of the Seder, and you feel very much included.  But there are plenty of other people there, too!
The cost of attending either night's Seder is $54.  However,

if two adults reserve together

, we offer a deep discount:

$95 for the "pairing

" (which means that each person ends up paying only $47.50 instead of $54 each).  (The two adults who reserve together may be relatives or just friends — or even enemies who just want to save some money! — it does not matter.)  The cost for Teens and College Students is $48 per person, and we charge $36 for children ages 5-13.  All our prices are subsidized by our congregation's generous donors, who co-sponsor our Annual Dr. Stephen Book Memorial Passover Fund, so that every person who would want to experience a wonderful and meaningful Seder can enjoy one.  No one ever is deterred by cost.
The Seders take place at the lovely

Back Bay Conference Center

in Irvine.  It is located at

3415 Michelson Drive, Irvine 92612

— on the northwest corner of Harvard and Michelson — on the second floor of the "Irvine Lanes" complex.  Directions from your starting point may be found here:
To reserve online, please click this link: 

http://yioc.org/reservations/

 .  It will take you to all of our reservations choices.  Just choose, from the top line of choices, whether you want to reserve seats for: (a) the First Night, (b) the Second Night, or (c) Both Nights.  You can make your payment, right then and there, on our website.
Happy Pesach!
(As a matter of policy, we limit our Community Sedarim (Seders) to no more than 4 tables or 30 or so people because we aim for a more personal intimate environment, where Rabbi and participants can interact and interrelate meaningfully and personally, kibbitz a bit, get to know each other. At our Seder, as a result, even those who never before have experienced an "Orthodox Seder," or who otherwise would not even have had a Seder, experience a more personal learning and memorable Seder that more closely parallels the home experience.  From experiences like these, bonds are forged that often see Seder participants later coming back to us at YIOC for other Jewish holidays and programs, having experienced first-hand how we differ from others in terms of personal engagement.)
Schedule
Passing Over Passover Tidbits 5778 (2018)
The month of Nisan is designated throughout the Torah as the First Month of the Year for the Jewish People because that is the month when Hashem bestowed on us the Gift of Freedom. The world was created in Tishrei, and that autumnal time indeed is Rosh Hashanah for humanity and for all of Creation.  But our unique New Year starts with our unique first month, Nisan.  The Month of Freedom.
Pesach is an amazing holiday, and it brings family together in a wonderful way.  But there are so many things we do to prepare for Pesach that it can seem daunting.  The laws often are quite complex, and the process is quite labor-intensive.  In my preparing this roadmap for you through the basics, I hope you will find the material below to be helpful.  You may even want to keep it on hand around the kitchen area for easy reference.
Sale of Chametz.  You appoint a Rabbi to act as your agent to sell your chametz.  The Rabbi is not actually buying your Chametz.  He does not want to own it over Pesach any more than you do.  Rather, he sells it on your behalf to a non-Jew.  The sale is serious, and it is transacted seriously.  I am available to be appointed as your agent.  I am not available to be appointed after our Shul's posted deadline because I will have proceeded to transact the sale.  To appoint me, please see me in person and formally transact the appointment.  I prefer not to accept agency by phone.  I do not accept personal compensation for this service, although I welcome your donations to Young Israel of Orange County or the Rabbi's Discretionary Fund.  You also should submit the Sale of Chametz form, completed.  If you have an urgent need to submit by fax or by postal mail, please note that your transaction to appoint me your agent is not complete until you receive from me formal written notice that I have received and accepted your appointment.
Search for Chametz. We search for Chametz on Thursday night, April 18, any time after approximately 8:05 p.m. (Don't you love how the Jewish calendar sounds so much like an airline schedule?)  We should not delay.  Instead of leaving 10 things of Chametz around your house, you may leave fewer than ten – especially if you, like me, have a habit of forgetting where you left all ten.  Also, instead of leaving bread (which causes crumbs and a mess, and then you have more Chametz to vacuum), it is a good idea to leave Cheerios or some neater Chametz.  Make sure that the kids participate, too. Try to use a wax candle to shed light throughout the search because the Talmud speaks of searching by the light of the candle.  Still, you also may use a flashlight if that helps you.  While Mom or Dad uses the candle, consider giving flashlights to the kids to foster their active participation . . . and to reduce their wax drippings. We recite the brakhah before searching, then may speak during the search only if about matters relating to the search.
Burning the Chametz.  We burn the Chametz on Friday morning, April 19.  We may not eat Chametz that morning after 10:xx a.m.  Thereafter, we must burn any remaining Chametz by no later than 11:xx a.m.  Some burn it in the family fireplace or by tossing it down an incinerator.  Some burn it at the curb on the street. After the burning, we recite the "Nullification-of-Chametz Declaration" (Kol Khamira v'Khami'a).  If you are not fluent in Aramaic, recite in a language you understand.
Koshering the Kitchenware.  Most people no longer engage in the task of koshering their pots, pans, flatware, etc. for Passover.  Instead, they buy separate complete sets of dairy-for-Passover and meat-for-Passover pots, pans, flatware, etc.  The moving companies love it.  "Hi, James.  Let me show you what we will be moving.  Here is my everyday dairy.  Here is my everyday meat.  Here is my special Shabbat dairy.  Here is my special Shabbat meat.  Here is my Passover dairy.  Here is my Passover meat.  That's the flatware.  Now, may I show you my pots and pans?"
Kitchen Counters – Granite.  In preparing your kitchen for Passover, there is no need to line your kitchen counters with aluminum or stuff if you have an all-granite counter.  Simply clean the granite counter top with a good, basic cleaning; then wait 24 hours; then bring water to a boil in a tea kettle, and pour the boiling water directly from the kettle onto the granite counter top.  That koshers it for Passover.
Other Kinds of Counters.  If you have any other kind of countertop, clean it well with a basic cleaning, then line it for Passover.  Most line it with aluminum foil.  Some line with cardboard, covered with aluminum.
The Sink.  Stainless steel sinks can be koshered for Passover.  You would clean the stainless steel sink incredibly well, leave it unused for 24 hours after the cleaning, then pour boiling water all over its entirety.   For regular sinks, which most of us have:  regular sinks typically cannot be koshered.  Therefore, you clean the sink well with a basic cleaning agent like Comet, then line it for Passover.  Most line it with aluminum foil.  For the sink cover, you cut a hole for the drain.
Koshering Your Oven.  To kosher your oven for Passover, if it is self-cleaning, simply run the self-cleaning cycle.  For other ovens, clean the oven really well with an Easy-Off kind of cleaner.  Wait 24 hours after it has been cleaned, not using it during that time.  Then bring the oven to its hottest temperature for an hour.
Koshering Your Gas Stove.  To kosher your gas stove for Passover, clean the burner-grates really well.  Wait 24 hours after they have been cleaned, not using them during that time.  Then turn the burner-grates upside-down over the respective flames, and turn on the flames for half an hour.  If an electric stove, turn on the burners to get them red-hot and maintain that heat for half an hour.
Koshering Your Dishwasher.  Although the question is open to some discussion, the halakhically preferred opinion is that dishwashers cannot be koshered for Passover unless they are stainless steel and can reach 190 degrees Fahrenheit.  There are evolving halakhic approaches to the question. Therefore, in a case of urgent need, please speak with me privately regarding alternatives.
Koshering Your Microwave Oven.  To kosher your microwave, clean it all around – all six inner sides (ceiling, floor, three wall sides, inner side of the door) – with a soapy mixture. Remove the glass or pyrex-like base, because that cannot be koshered for Passover.  Wait 24 hours thereafter, not using the microwave during that time.  Then put a Styrofoam or other microwave-safe cup inside, filled with water, and nuke it at maximum for 10-15 minutes, enough to get some steam into the microwave environment.
The Refrigerator.  Wash down the interior walls of the refrigerator and the glass or metal shelves with a soapy mixture.   Then line the shelves and the side-door shelves.  Aluminum foil works best for me as a lining.  Ellen likes wax paper.  There is no need to cover or line the three interior walls.  Just line the shelves and the side-door shelves.
Clear out the Chametz.  Remember to clear out Chametz in your office refrigerator or desk drawers.  Remember to get an interior car wash before Passover, so the interior is thoroughly cleaned of foods and crumbs.  At home, check children's bedrooms and closets, pockets in daily clothes and jackets.
Matzo.  Use only Shmurah Matzo on the first two days of Passover.  Ellen and I use Shmurah all 8 days, but that's just my thing.  You may use non-Shmurah as of the third day. Ashkenazim may not use egg matzo (or apple juice matzo or grape-juice matzo) at all.  Nowadays, reasonably priced machine-Shmurah matzo can be found in general supermarkets like Ralphs or Albertsons  In terms of Jewish law, there is no difference between square machine-Shmurah and round handmade Shmurah, although some find the latter niftier.
Maror.  Use fresh grated horseradish, not the stuff in the jars that is diluted with vinegar and beets.  Some use Romaine lettuce.  I never use only lettuce for maror, although it is permitted, because it just is not bitter, so it lacks the "feel."  But it is permitted.  In fact, some rabbis actually prefer using the Romaine lettuce, noting that it is humanly difficult to ingest the full measure of horseradish halakhically required, particularly within the time halakhically designated.  Therefore, one approach is to use the Romaine lettuce for the bulk and then to put some raw grated horseradish into it for "feel."  If it ain't got the sting, it don't seem like the thing.  (Then again, the slaves probably told their taskmasters: "Lettuce alone."  But that was only the ones who spoke English.)
Ashkenazim Eating at Sefardim.  On Passover, Sefardim permit eating rice, beans, and peas.  Ashkenazim do not.  However,  an Ashkenazi may eat at a Sefardi on Passover as long as he does not eat the actual beans, peas, or rice.  The Ashkenazi even may eat food made in Passover pots or pans, and served on Passover plates that the Sefardi also uses for rice, beans, and peas.  He simply must avoid eating the actual beans, peas, and rice.  Sefardim also permit drinking certain things with corn sweeteners, and using corn oil, things that are problematic for Ashkenazim.  Bottom line – For Ashkenazim, it is OK to eat at Sefardim on Passover.  All we are saying is don't give peas a chance.
Peanuts for Ashkenazim, and Hummus for Syrian Sefardim.  Syrian Jews – who, like other Sefardim, may eat peas on Passover – have a custom not to eat Hummus on Passover, even though it comes from chick peas, because the word "Hummus" sounds like "Hammes," which is how some of them pronounce "Chametz."  Meanwhile, Ashkenazim may eat nuts on Passover, as in the walnuts that help comprise the Charoset.  Even so, it became customary for Ashkenazim not to eat peanuts on Passover.  These are customs that have historic and cultural significance.
Does it need a label?  Raw fruits and vegetables, etc., are permitted on Passover.  All other foods, such as canned and bottled foods, should be labeled "Kosher for Passover."  A hundred years ago – and more – there were limited food choices.  Nowadays, there are oodles of choices, and we never had it so good.  Look for the label.  Particularly note that, in cases of foods imported from Israel, there may be labels that say a food is "Kosher for Passover."  But if it has beans, peas, rice, or corn syrup, it might be OK for Sefardim but not kosher for Passover for Ashkenazim.  If in doubt, call or write me.  I am available to answer your queries on Passover, as I am all-year round.
Seder cups.  We drink four cups of red wine.  If you cannot tolerate that, use dark grape juice for some.  Each cup must have the capacity to hold at least 3.4 ounces.  You fill one of your cups with water before the Seder, and you pour it into a measuring cup.  That tells you whether the cups are sufficiently voluminous.  You must fill each of your respective cups of wine to the top, and you must drink at least half of each cup's contents.  Thus, if you do not want to drink too much, use smaller cups – half of a 3.4-ounce cup is 1.7 ounces, and four such drinks are 6.8 ounces.  By contrast, half of an 8-ounce glass is 4 ounces, and four such drinks is 16 ounces.  So it adds up.  Of course, if you use large glasses, by the end of the Seder nothing is going to add up.  But you won't know.
Dry or Sweet Wine?  I advise drinking dry wine throughout the Seder, not sweet wine.  Each wine has similar alcohol content, but sweet wine sends the alcohol to your brain and stomach much faster.  On an empty stomach, two cups of sweet wine have you feeling more uncomfortable by dinner at "shulchan orekh."  With dry wine, you will feel much better.  The alcohol will "hit" when you are sleeping, and you won't know what hit you.
Maggid.  Make the Seder interesting.  Don't get tied to the Hebrew text if it has limited meaning.  The Haggadah may be recited in any language.  Read things in English to keep it interesting.  Have the kids talk about things they have learned.  Engage them.  Talk about freedom.  Seriously – engage people at the table to talk about freedom.  What it means to leave an horrific job, a horrible employer., somewhere that makes your life an horrific hell.  What it means to leave a horrible country (e.g., Communist Russia or Berkeley; Iran under Khomeini; Syria or Iraq under anyone; even countries where Jews once lived well and, with a change of regimes, freedom turned into a nightmare under new leaders "who knew not Joseph").  We live so well in America that it is valuable to engage in discussing slavery and freedom.
Paper Plates.  Despite concerns that certain paper plates are coated with starch (a kitniyot product forbidden to Ashkenazim), persuading certain agencies to advise against using paper plates on Passover, I follow the opinion of Rav Eliezer Eidlitz, who permits using the kinds of paper plates that are a bit shiny and tougher than the regular cheaper plates, with the coating aimed at preventing leaking. Rav Eidlitz specifically permits the following paper plate products:  Paper (Plate) America's Choice, Bi-Rite, Classic, Dixie Paper Plates, Finest, FMV, Fred Meyer (decorated paper plates, bowls and white paper plates), James River, Kroger (decorated and white paper plates and decorated bowls), Ralph's (white paper plates, decorated paper plates and decorated bowls), Solo, Sweetheart (paper bowls, platters, plates and food trays), Big Y, Bi-Rite, Dixie Stoneware, Georgia Pacific/Dixie, Ralphs White & Decorated Paper Plates, Giant, Lowes, Pride Made, Shopper's Value, Stop & Shop, Topco.
Milk.  Here's the deal on milk.  If it is label-certified as Kosher for Passover, great.  Otherwise, you still may use your usual not-Passover-certified store-bought milk throughout Passover . . . but only if you buy it before Passover.  There is an interesting halakhic analysis behind this rule, and I will talk about it one of the Friday nights of Passover because, yes, we may as well milk it for all it's worth.
Bottom Line:  Don't sweat the small stuff – and none of it is small stuff!  But it's great fun, a great tradition we have handed down for ages, and it reminds us that the Torah story is true.  We were slaves to Pharaoh in Egypt, and G-d liberated us with miracles and wonders, a strong hand and an outstretched arm. We are here 3,300 years later in an unbroken chain of generations, participating, never forgetting, and handing down the memory of slavery and the gift of freedom for future generations.  Chag Same'ach.
Something Else You Should Know:
We "absorb" — i.e., we actually lose — approximately $45 on each and every person who attends our Community Seder, so we actually "absorb" approximately $5,000 every year at Seder Time.  That is, your Seder seat is a $90 value, even though we charge only $54 per person or $95 per pairing of two adults (not to mention the cost we absorb for teens at only $48 per plate and kids aged 5-13 at only $36 per place).  You are receiving the value of a gourmet kosher caterer, a four-course ample and elegant meal, waitresses, the sommelier who pours all your four cups of wine, our exquisite banquet facility, and a world-class Seder leader.  We absorb this subsidized "loss" for two reasons: (i) a little bit, because we are nice people; and (ii) mostly, because we know from experience that, once you have met our Rabbi and experienced our interpretation of Modern Orthodox Judaism, you very likely will decide to come back to us again — at least for the Seder, and possibly to join our Shul for the High Holidays of Rosh Hashanah & Shofar, and Yom Kippur & Kol Nidre.  You will find that "Modern Orthodox" YIOC-style is the perfect blend of your parents' or grandparents' Jewish tradition — something that really is so darned hard to find out here in Orange County — while it also is contemporary and in touch with today's real world, even as it touches your soul in a special way that you have missed since coming out here.  Sure, not everyone comes back again, but experience teaches that there is a great chance you will!